In the fast-paced world of live performance, artists need to be able to rely on effective and professional makeup that will survive the rigorous demands of theatrical arts. Ben Nye makeup provides products and tools necessary for creating elaborate character makeup designs that enhance the immersive experience of the theatrical environment. Stage makeup requires a balance of highly pigmented formulas, and durable performance grade products – two things we here at Ben Nye excel in.
Creme Foundations
Our classic Creme Foundations offer a broad range of densely pigmented creme shades in a full coverage formulation. The rich creamy texture allows these cremes to apply and blend with ease. Ensure the structure of the face translates properly from stage by highlighting and contouring with foundations or creme contours at least two shades lighter, and deeper than the base foundation tone. These foundations will also blend flawlessly with Creme Colors.
Classic Face Powders
Classic Face Powders have become a universal tool for success in setting heavy duty creme foundations and offering a superiorly matte complexion for stage performances. Neutral Set works for all colors and skin tones while providing perspiration control. Super White amplifies white makeup, like clowns, and translucent powders in shades like Chestnut and Fair cover a range of skin tones.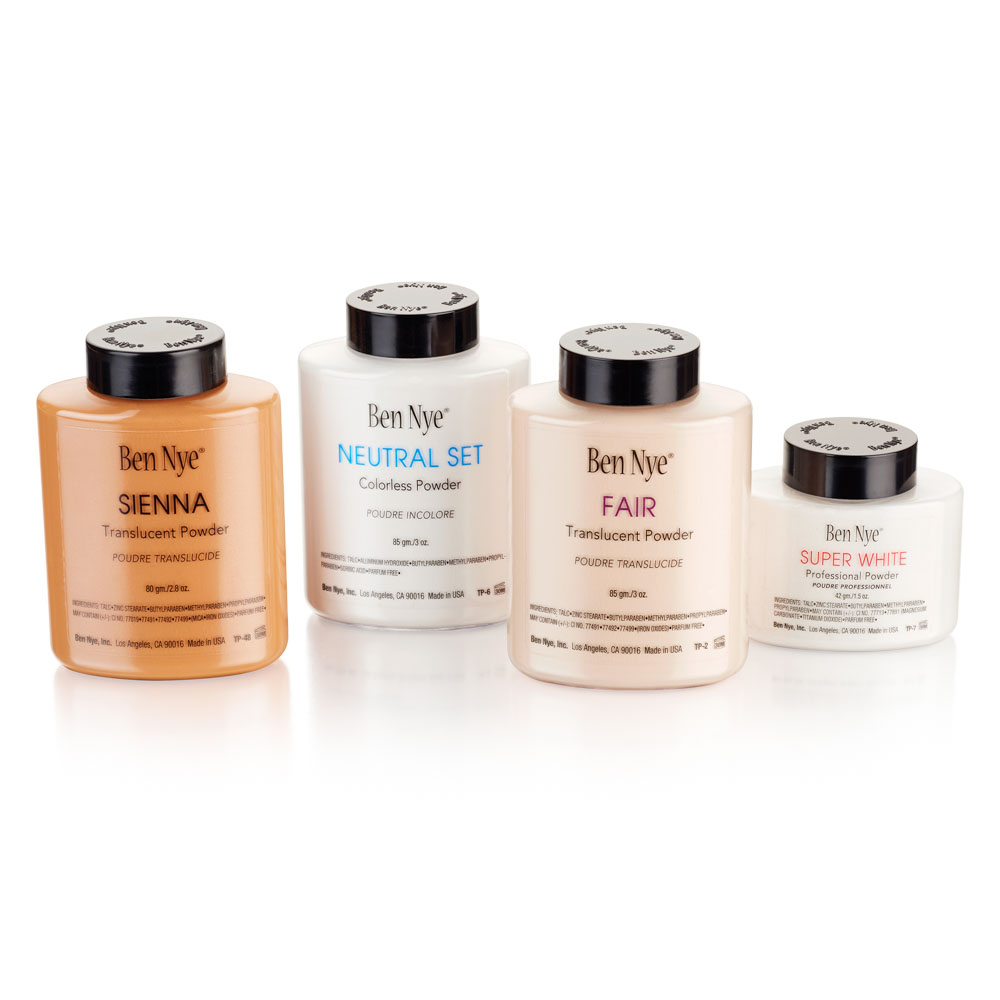 Theatrical Eye Shadow Palette
For a universally functional and professional array of eye shadow shades, utilize our 8 color Theatrical Eye Shadow Palette. These highly contrasting shades provide artists with our most popular pressed shadow colors for sculpting, defining, and enhancing the eyes, cheeks, and face for stage makeup.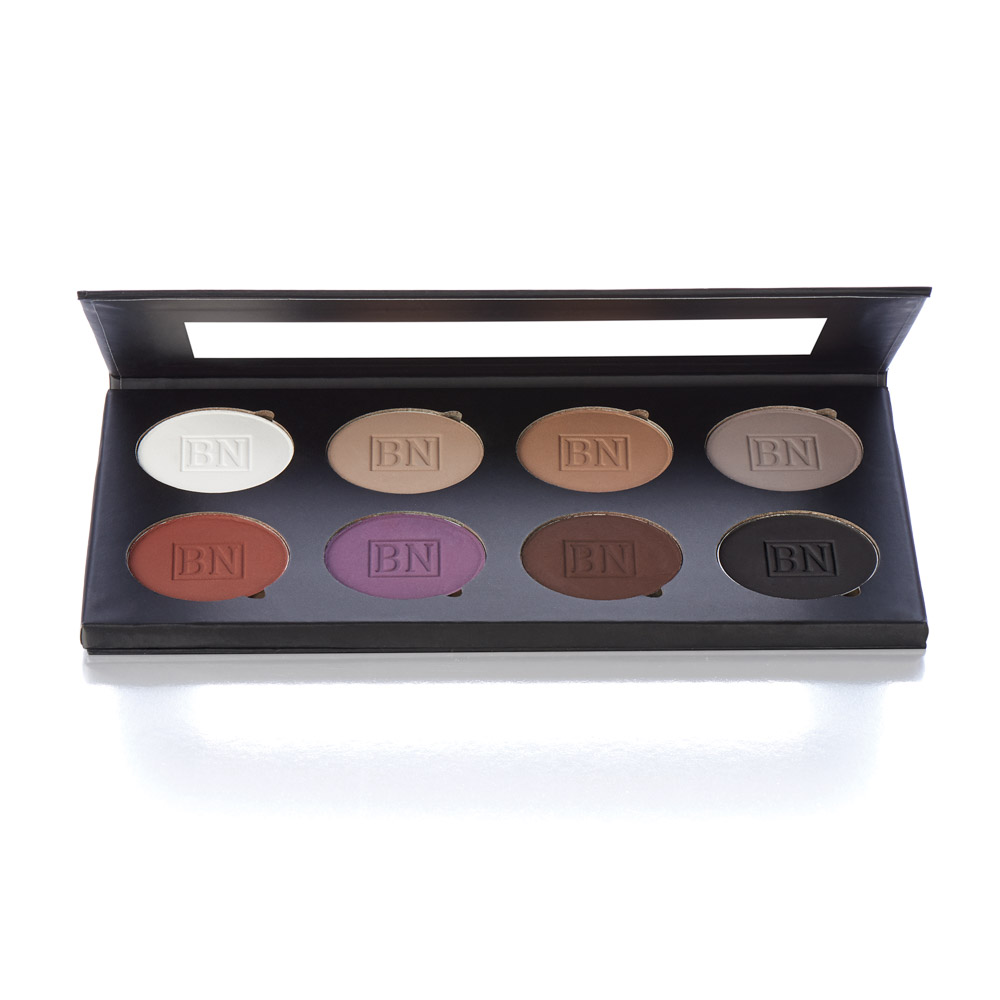 Theatrical Rouge Palette
Up on stage, performers are usually washed out from all the stage lights they are standing under. To handle the intense lighting of stage productions, our blush colors come in a captivating variety of vividly pigmented hues that add a little extra life into the cheeks and keep the complexion vibrant and life-like. Our Theatrical Blush Palette is an 8-shade assortment of neutral, and bold tones that help bring any character to life. Powder Blush is available in single shades too.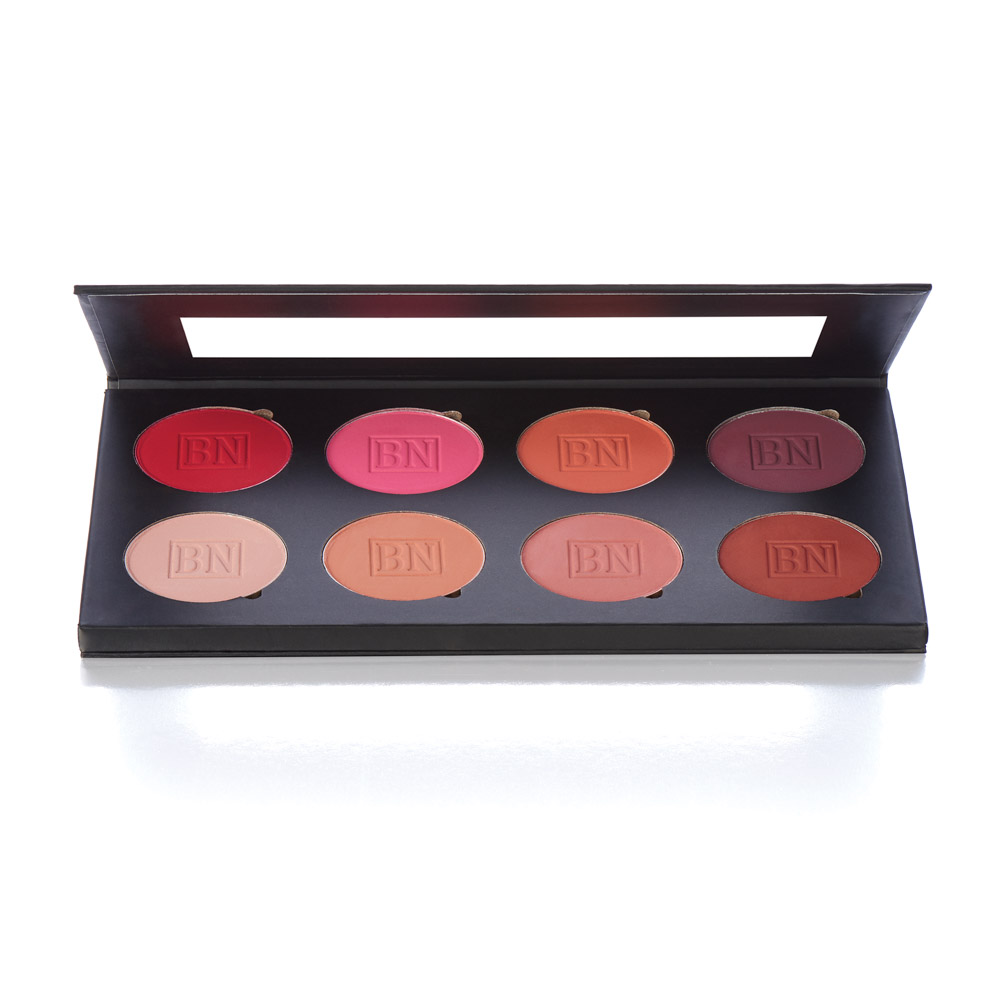 Theatrical Creme Kits & Character Kits
Theatrical Creme Makeup Kits contain essential foundations, creme colors, and various makeup products and tools that are perfect resources for those just starting out in theatre, or for veterans of stage and performance. Pick up these creme kits to stock up your theatre's supply or add it to your own personal collection of Ben Nye Makeup. For kits that are focused more on character makeup, check our convenient range of character makeup kits.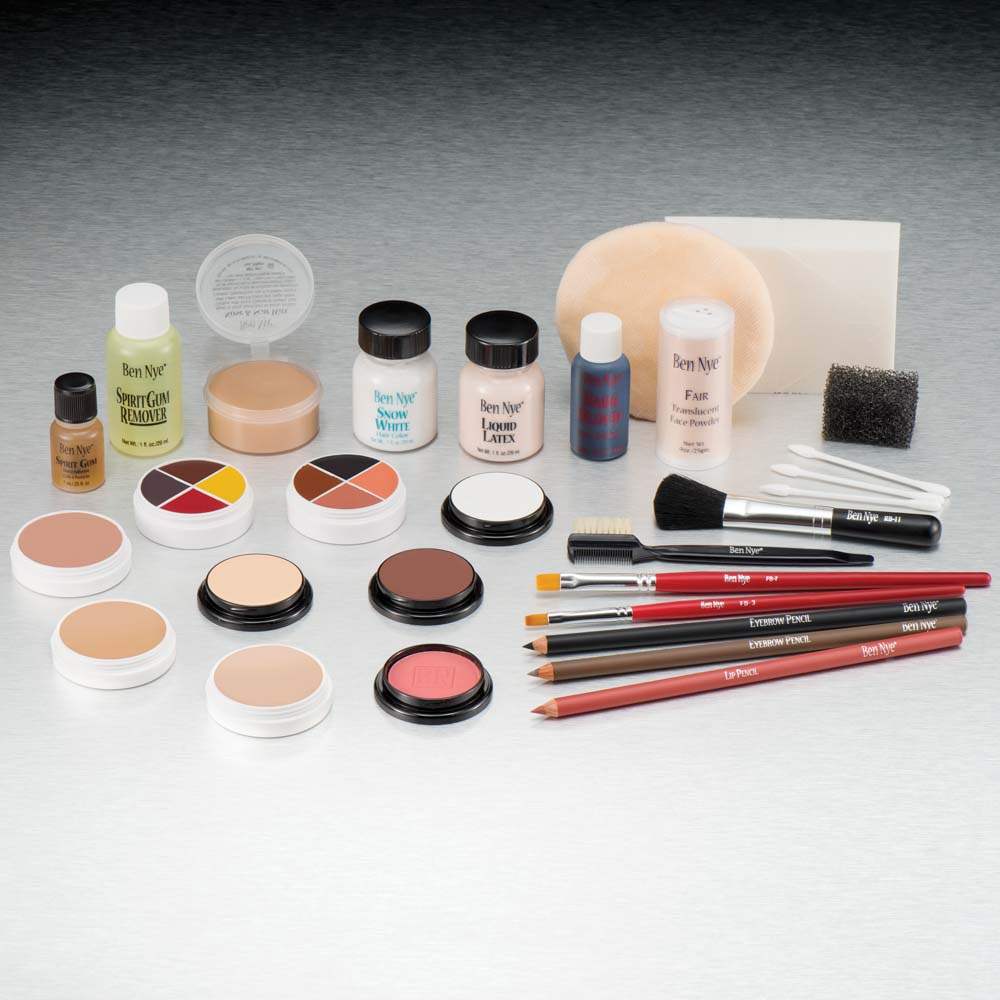 Final Seal Setting Spray
Our iconic alcohol-based Final Seal setting spray is the perfect option for increasing the durability and longevity of any makeup application. This formula effectively locks makeup onto the skin, while helping to defend against the influences of perspiration and the energetic world of the performing arts.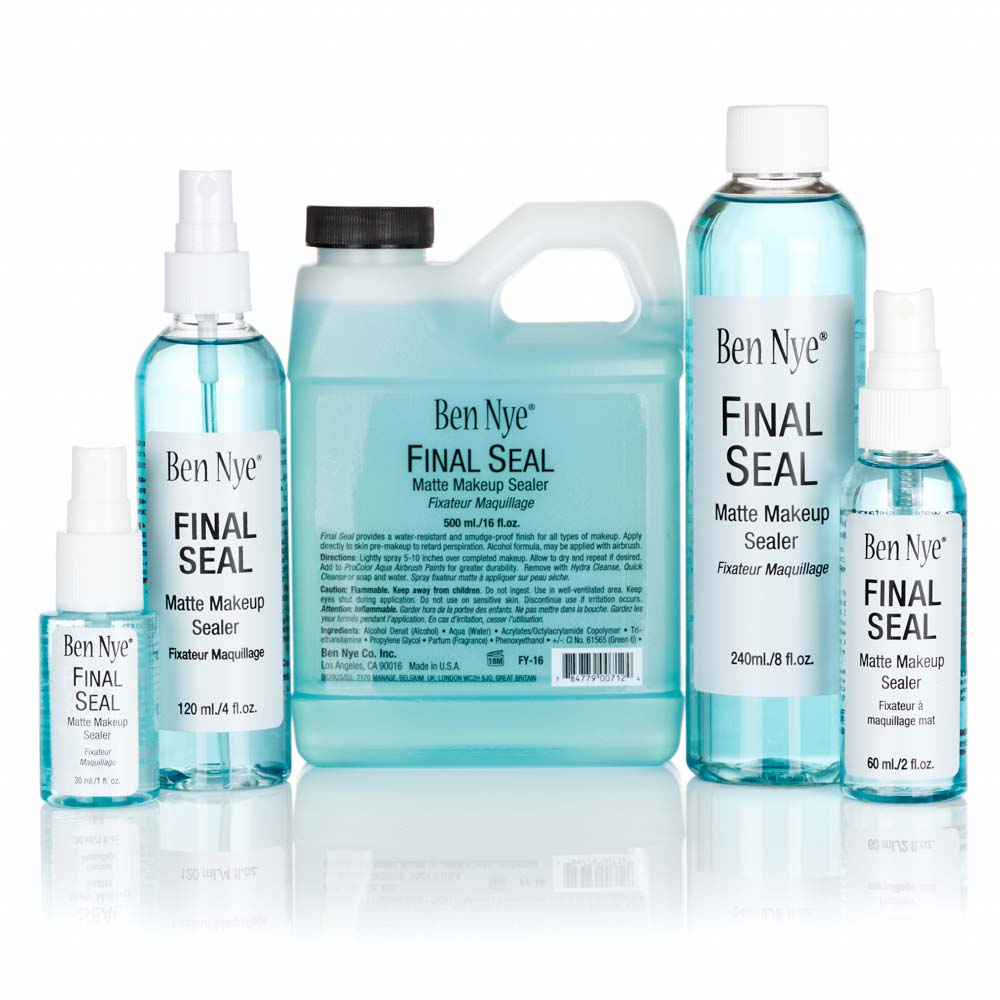 Professional Creme Colors
For stage characters with colorful complexions, Professional Creme Colors provide rich velvety color in an assortment of essential shades to bring any fantasy theatrical character to life. These creme colors blend together with ease to create custom full coverage creme tones for unique theatrical characters and endless creative possibilities.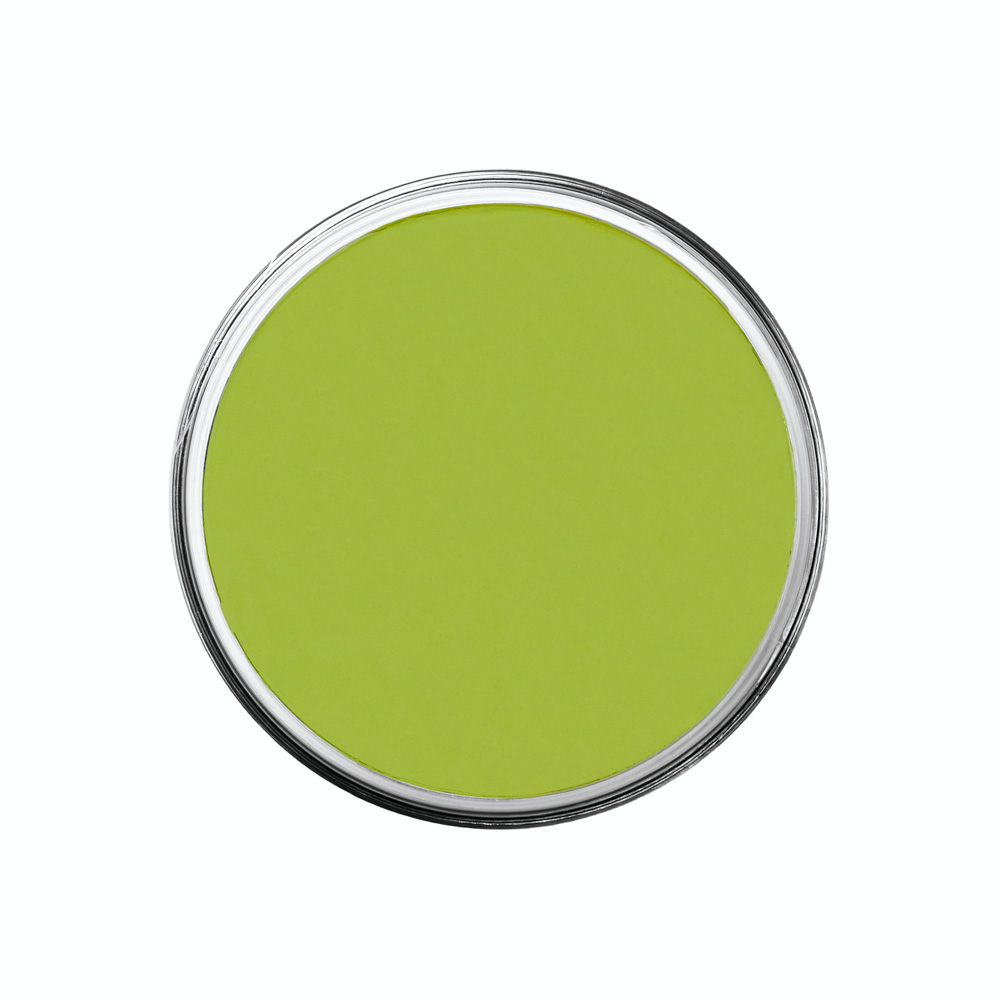 Whether you're a student stepping on stage for the first time, or a seasoned veteran of the theatrical arts, our products provide artists and performers with the reliable formulas necessary for creating anything from a basic stage face, to the most elaborate fantasy character makeup designs.
Visit out our Store Locator to find an authorized Ben Nye dealer near you and stock up on all our essential theatrical products for your next big stage production or theatrical performance.